Preface: New Zealand, Destiny, and Randall Lee
If we haven't spoken in a while, it might be helpful to tell you why I am traveling before you start reading my blog. I am doing a 3 month research fellowship in Wellington, New Zealand, where I'll be researching red leaves with Kevin Gould (the red leaf king of the world). But this blog won't only be about red leaves, don't worry. In fact, after seven years of writing about red leaves, I am conditioned to thrash whenever I type that particular sequence of letters. For this reason, I will adopt a similar approach to the Hebrews and their avoidance of writing God's name. Except instead of writing R-D L-V-S, I will use the code name "Randall Lee" (my father's name, which incidentally, sounds phonetically similar to "red leaves", and which I much more enjoy typing). I will also be writing a lot about my thoughts on life, spirituality, destiny, etc., which we all know is the secret reason behind why I'm going to New Zealand in the first place (I did not mention this in my fellowship proposal).
---
Cairns, Australia (July 21-31)
The people at Air New Zealand aren't very good at geography. or math. This is the only explanation I have for why I am in Australia right now. While booking my ticket, I discovered that buying a ticket to New Zealand was $400 cheaper if I took an extra plane ride to Australia (AFTER landing in New Zealand first). I didn't ask any questions. Cairns is a city in Queensland, on the northeast coast of Australia. I chose Cairns over some of the more popular cities in Australia because of the scenery. Just do a quick google image search for "Cairns, Australia", and you probably pull up a lot of pictures like the one below. Jealous, aren't you?????

Well, you shouldn't be. Lesson 1 learned in my journey: DO NOT base a vacation solely on google image search results. I have come to the conclusion that the only way one could see the particular view of Cairns depicted above is if that person owned a helicopter. Or a hovercraft. Really- I spent a whole day on bicycle trying to find this view. The picture below, I believe, more accurately represents a typical tourist's view of Cairns during the month of January.
Figure 3. FOR REAL Cairns
Notice the rain. Unbeknownst to me while planning my travels, Queensland does not have "seasons" as we know them in the States. Instead, there is the wet season, and the dry season. Lesson 2: DON'T EVER book a trip to northern Autralia during the wet season. In addition to rain, the wet season comes with all kinds of other surprises that also don't come up in a google image search, including (but not limited to):
Mosquitos, biting flies, and gnats
Box jellies *
Crocodile mating season
Low visibility in the ocean (sucks for diving)
A gross, grey ocean that looks more like Tampa Bay than the crystal blue ocean depicted in the picture.


---

*Fun Fact: Swimming with box jellies is only an option if you want to DIE. For real. If one wants to swim in the ocean, one must purchase a 'stinger suit' (left), or wear pantyhose on your arms and legs and face (as suggested to us by some men in the pawn shop).

---

Apparently a lot of people are privy to this information, because there aren't many tourists in Cairns right now at all. The upside: because there are no tourists, everybody is pretty desperate for business, which presents a wonderful opportunity for me to practice my exceptionally poor haggling skills. Below, a sampling of my successful haggles:
Rental car price reduction by $80
$5 off use of a fax machine
2 for 1 entry into Paronella Park (which was actually due to a combination of haggling and lying)
But I shouldn't dwell too long on the negative aspects of the city- there are definitely some really cool things about Cairns, even in January. For example, there are some cool Aboriginal art museums, lots of cool hippie shops, and best of all, at night, the sky fills with silhouettes of these giant bats!!! TOTALLY AWESOME!!!!!!!
Figure 4: AWESOME!!!!!!!!!!!!
---
Getting out of Cairns
After bat watching had gotten old, I concluded that Cairns didn't really have much to offer. I figured, if I could just find one other fellow traveller who shared my sentiments, we could rent a car together and make our own expedition.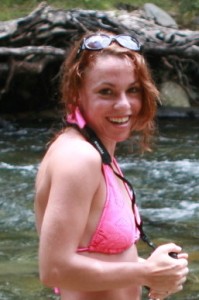 Enter Kate (left): existentialist dancing machine from Minnesota. (Note: There are many more wonderful adjectives I could use to describe Kate, but these were the ones I found most endearing. For a more exhaustive description, see Box 1.) Kate was literally the only American I met the whole time I was in Australia, and she happened to be in my dorm room.
---
Box 1. Kate. Short for Kathleen. Oldest daughter in a brood of 6. Catholic, architect-in-training, collegiate athlete (track), crocodile enthusiast, and master of left-side-of-the-road driving. I don't like standing next to her in a bathing suit.
---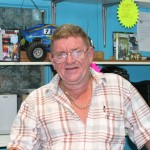 Kate and I decided that we would do a 7 day camping trip along the coast of Queensland. In search of a cheap tent, we were advised to check out the local pawn shop (right), where the gentleman pictured agreed to sell us the "tent I keeps my beer fridge in" for a mere $15. I should add that this offer came only after several minutes of sexist comments aimed towards me about dumb blonde women (Benedict Arnold Kate also made sure that it didn't escape notice that I was also American). This was also the man who advised us to swim in the ocean with pantyhose on our faces. Equipped with a tent, a rental car, and a cooler with no ice in it (Kate), we set off.
---
Babinda Boulders- July 24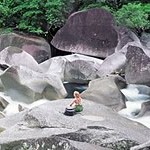 First we went south, to Babinda Boulders, for a swim and a hike. The picture illustrated on the left is from the travel brochure we used. Consistent with certain themes described thus far, persons can not swim in the part of the river depicted in the brochure. We could, however, swim in a small lagoon area filled with Chinese tourists, and hike around the rainforest, which was beautiful. Side story: while applying our sunblock in the parking lot, we were approached by a stout, local croc-farm owner, who attempted to entice us into sharing drinks with him and his friend over a fire on some island near his croc farm. Only in Australia…
---
Paronella Park
Next we made our way south to Paronella Park. Paranella was an estate built in the early 1900's by a Spanish man who made his fortune in sugar cane farming. It took him 11 years to build Paronella, and when he finally went back to Spain to get his fiancee and bring her to Australia, she had married some other dude. So he married her sister instead, and they lived happily ever after.
(It actually DID look like this)
Now fast-foward 80 years, and add an entrance fee of $30. I didn't really have any interest in seeing the park at this point, since I had been jaded against all forms of advertising, and couldn't be convinced that the place could possibly be as beautiful as the brochure. But they offered free camping with admission, and Kate really wanted to see the park. So she went up to buy a ticket, and asked whether it was ok that I camped with her. The answer was a stern "No". I thought that this was ridiculous, especially since we had driven 100+km out of the way to see this park, which was way out in BFE with no place else to stay. Then the woman at the counter asked why I didn't want to see the park. What happened next must have been some kind of Freudian slip. The first thing to come out of my mouth was, "I HATE PLANTS". As soon as I said it I expected to be stricken dead by God. But I wasn't. Instead, the woman responded by offering to let us both in for the price of one ticket, saying she was convinced the park would change my mind. Sweet right? Well, it gets even SWEETER.
The first place we came to on our tour was the coolest place of all. Note: That is not a boil of fish in that pond. It is a BOIL OF EELS!!!!!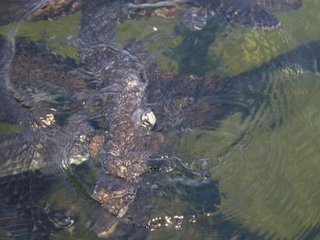 And I mean, these things were CRAZY. They would writhe up onto the steps of the pond to be petted and fed, like some kind of fat, crazy slime snakes on LSD. I was so excited that all of these crazy expletives just started pouring out of my mouth– mostly combinations of the words awesome, fuck, eels, and holy shit. It was only after about a full minute of my narratives that I noticed that I was entirely surrounded by children. The rest of the Park was OK. Which reminds me, as we were leaving, the woman who had given us the deal confronted us, and with a sly "I told you so" smile, asked me, "so…. what did you think?". I panicked. I think my response was something like, "uh… it looked like the brochure. Which was good. But I have this issue where, if I look at a picture, it's just as good as being there. So I really didn't feel anything beyond what I felt just looking at the brochure. But it was nice. I liked the eels.". She just stared at me, kind of nodding her head, but not really.
That night at Paronella, there were no bats, but lots of Cane Toads. Cane Toads were introduced in 1935 to control populations of Cane Beetles (another introduced pest). Once released, the Cane Toads didn't eat the Cane Beetles, but did quickly spread throughout northern Queensland (see animation). One interesting thing about Cane Toads is that you can lick them and have hallucinations. I know what you're thinking, and NO I did not lick the toads. Though admittedly I would have, were it not for this last sentence in the Wikipedia paragraph:
"Bufotenin, one of the chemicals excreted by the cane toad, is classified as a Class 1 drug under Australian drug laws. This is the same classification as heroin and marijuana. The stimulating effect, which includes mild hallucinations, lasts for less than one hour. However, since the cane toad excretes bufotenin in very small amounts, and other toxins in relatively large amounts, toad licking could result in serious illness or death."
(I know, Mom. A close one. You should donate $5 to Wikipedia). The toxins also kill a lot of the animals that eat them. One exception: the Black Kite, which has "learned to attack the toad's belly, avoiding the poison-producing glands on the back of the head". INTERESTING. We met lots of locals who had very strong feelings about Cane Toads. One especially memorable encounter was with "Brendo", in Cape Tribulation. During a casual evening meal, our friend Alex pointed to a toad hopping on the boardwalk nearby, and said, "Aw look, a frog!". Brendo was on his feet before I could even turn my head. At first he took a sweeping kick towards its face, but missed. Then he just jumped straight on it with all his weight, kicked it into a corner where he proceeded to kick it repeatedly with the toe of his boot, and finally, punted its lifeless body into the woods. We were speechless.
---
Dinosaur Birds, Waterfalls, and Pirsig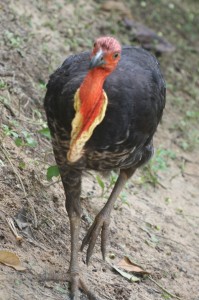 The next morning in Paronella, I was awoken by the sound of something running around the perimeter of our tent. Peering through the mosquito-net window, I saw this crazy looking Jurassic Park bird (left). Kate was still snoozing, so I grabbed my iPod and followed the bird into the bush (i.e. sugarcane farm land).
This was my favorite hour in all of Australia. The mist was still on the mountains, and it actually wasn't hot or raining for once (below).
Misty Mountains (that's really what they're called)
After breakfast (note: scones and tea were NOT free, as advertised on the brochure), we were off. Needless to say, between the driving and the hiking, Kate and I had a lot of time to talk. The bulk of our conversation time was spent arguing about how one can/cant understand the world, and the existence/non-existence of truth. I can still hear Kate's voice so clearly– her right arm waving to emphasize her point, as if she were warding off some gigantic bird of prey — "but what is TRUE???? What is a FACT???". Honestly, after at LEAST 20 hours of debate, I could not tell you what Kate believes. Just that she doesn't believe that any explanation for anything is any more valid than any other explanation, regardless of evidence. An example of one of our conversations:
Me: But what about, say, a murder case. A man is on trial for murder, and he is innocent- he did NOT kill the victim. How can he be both innocent and not innocent at the same time?
Kate: But what is MURDER??? If you-
Me (interrupting): Forget the word 'murder'. WHO put the knife in this dead man's chest? And what if there is lots of evidence saying this other dude did it, and NOT the person on trial. What do you do?
Kate: This is something TOTALLY different from what I'm talking about.
Me: What is the point of your philosophy if you can't apply it to anything useful???
Kate: What's the POINT??? What's the point of ANYTHING????
At least, that is how I remember the conversations going. Kate, feel free to send me an example of how you remember the arguments going and I will totally post it.
Note: I deliberately put this conversation next to those particular waterfalls because THAT was what we were looking at while having this exact argument, with Kate flapping her arms all around and me on the verge of tears.
---
Port Douglas- July 26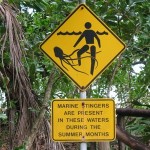 After spending the night in Cairns, we headed up north towards Port Douglas. Port Douglas reminded me of Sarasota, FL; except that you (still) couldn't swim in the water. We laid out on the beach for a bit, and were surrounded by all these little crabs in their burrows. The internet says that the balls of sand are made when the crab grabs a heap of sand to suck the nutrients out. The crab balls it up to make sure he doesn't go through the same sand twice. I made balls around our towels so people would think we had been eating nutrients too. But I stopped after 10 because Kate didn't want to help.
Side note: That day was Australia day- a celebration of the day the first British ships landed on Australian shores. The Aboriginees call it "Invasion Day". We celebrated by eating peanut butter and jelly outside the tent and going to sleep around 9pm.
---
Cape Tribulation- July 27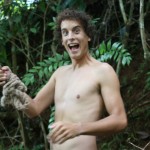 The next day we drove further north to Cape Tribulation. I think this was the rainiest part of the trip, and also where we discovered that our tent leaked. We camped out at a hostel (K.C.'s), where we ran into some people we knew from Cairns. This was actually the third time on our trip we had run into Thomas from Austria (right). I told him that it had to be destiny and that it obviously meant
that we were soul mates. (The only other soul mate I had met yet on this trip was this dead bird- which I felt a strange connection to). We booked a diving/snorkeling trip out of Cape Tribulation, only to be informed (once ON the boat) that there was no diving that day, because they didn't have an air compressor. So I only snorkeled in the Great Barrier Reef. As mentioned earlier, the visibility wasn't that great, but luckily, being so far out, we didn't have to wear stinger suits. The reef was beautiful, but you just couldn't see a whole lot from the surface. We did see some beautiful coral, parrot fishes, sea cucumbers (which spew their stomachs out of their anus if you touch them, which I did, and it was AWESOME), a spotted stingray, and a couple turtles. Kate has some kind of genetic mutation where she can't pop her ears, so she couldn't dive past like, 5 meters. Somehow I sunburned the hell out of my ass. Seriously, I couldn't sit down for 2 days, and I kept having to put my hand up my shorts to cool the skin with my hand. This embarrassed Kate a lot.
---
Back to Cairns- Jan 30
When we got back to Cairns, Kate and I went out dancing to celebrate my departure the next day. I was sloshed after my usual 1.75 mixed drinks, and spent the rest of the night dancing on tables and warding off advances by a French guy named "Joan" (Yo-an), who had this strange obsession with America. He also had a tongue piercing, which he kept flashing at me like it was some kind of lure.
I kept telling him to stop because it was disgusting, but apparently he didn't know that word. He must also not have known "gross", "sick", or "gross out, please stop", because I definitely tried those too. I think he just really wanted to make out with somebody from the United States. And I will admit that I did kiss him once, just because I was really curious what it would be like to French kiss somebody actually from France (answer = GROSS).
---
I left the bar around 2:30 in the morning, tired and sober and ready for bed. I waited for 30 minutes for the shuttle to my hostel (which was way out in BFE), but it never came. By 3 a.m. I was just like, "shit. I guess I have to walk home". Note, this is a 40 minute walk by foot. I was the only person on the street. After about 10 minutes I reached a park, where this guy with no shirt on appeared and started walking behind me. I changed direction when I noticed him, and he yelled "Don't walk away from me!" I was like, "oh shit!!!". Luckily, I saw this girl straight ahead of me standing in the middle of a field talking on her cell phone. I approached her and asked, "Can I stand by you for a second? This dude is really freaking me out". Her response, "oh, that's my boyfriend". And it was. They were both high on something, or totally wasted; she was wearing full on clubbing clothes- short black dress, big, dangly earrings, heels, etc., but strangely, totally covered in dirt. I didn't ask. They asked where I was going, and were like, "hell, girl! Do you know how far away that is! We'll walk with you". And they did. Well, they more hobbled along side of me. A couple of times the guy asked if I could carry him on my back. They asked where I was staying at least 4 times, and where I was from twice. But they were nice. The guy kept saying, "Would people in America would walk you home??? I bet they wouldn't!!!" I told him that we don't walk in America, so the question was irrelevant. But after the third time he asked it, I got the idea that it was just a rhetorical question, and so I just nodded my head. That was my last encounter with Australians. Nice people!
Average Rating:
4.8
out of
5
based on
184
user reviews.